Comment porter le manteau noir ?
Si vous lisez mon blog, vous devez connaitre mon avis sur le noir. Je trouve que dans la vie de tous les jours, on abuse de cette couleur car dans les médias on ne cesse de dire que le noir est amincissant etc... Regardez autour de vous dans la rue, 80% personnes des personnes s'habillent en noir. Je ne vais pas dire que je n'aime pas le noir, car c'est faux. Cette couleur sur des vêtements de qualités est très belle et classe. Malheureusement, le noir peut aussi faire cheap dés qu'il est choisi dans un tissu peu qualitatif. Qui n'a jamais connu le t-shirt noir qui devient gris, le jeans noir qui fini par déteindre et qui ne ressembler plus à rien et perds toutes les qualités du vêtement noir. Oui le noir est un faux ami, il se ternit et il vieillit très mal...C'est pour cela que je conseil souvent de se rabattre sur d'autres couleurs comme du bleu marine ou du gris anthracite.
Un beau vêtement noir est un atout
C'est vrai que par touche le noir est très classe et peut être un atout dans notre dressing. Mais pour cela, il faut privilégier les vêtements de qualités pour cette teinte. Pensez donc à mettre le prix pour vos vêtements de couleur noir.
Aujourd'hui, je voulais vous parlez du manteau noir. Car oui, je trouve qu'un manteau noir est un bon basique de la garde-robe. Malheureusement, on le voit trop souvent mal porté, en total look noir. Je voulais partager avec vous des astuces pour bien porter ce vêtement et avoir du style. Quel détail faut-il tenir compte quand on choisi un manteau noir et comment l'associer pour être stylé.
Le choix du manteau
Le choix du manteau va être primordial. Il va devoir sortir du lot sinon il passera incognito au milieu de tous les manteaux noir qu'on peut voir dans la rue. Il va falloir choisir un manteau avec de jolis détails ou une coupe un peu spécial. Comme des beaux boutons dorés, avec des éléments en cuir, un col en fausse fourrure ou des épaules structurés. Les détails sont super importants! Et la matière également. Si vous voulez avoir chaud dans votre manteau privilégier un manteau avec de la laine ou du cachemire. Faites attention au détails, regarder si les coutures sont bien faites, si les boutons ne sont pas entrain de se faire la mâle et si les fermetures éclaires ne gondolent pas...
Evidemment, le manteau devra correspondre à votre morphologie. Si vous avez la taille marqué préférer un manteau ceinturé pour souligner votre taille. Il existe un tas de coupes de manteaux, pour savoir laquelle nous va, il n'y a pas de miracle... Il faut essayer!
Le manteau en peau lainé
Le manteau en peau lainé, très tendance en ce moment, apporte de toute de suite du style grâce à son côté bi-matière très cosy. Les sangles apportent également du détail et donne un petit côté motard au manteau.
Photo : Inconnu
Des détails dorés
La belle Marianna porte un joli manteau avec un détail qui fait toute la différence : Les boutons dorés. Même si elle est pratiquement en total look noir, les boutons apporte de la lumière et du style au look.
Photo : Mariannan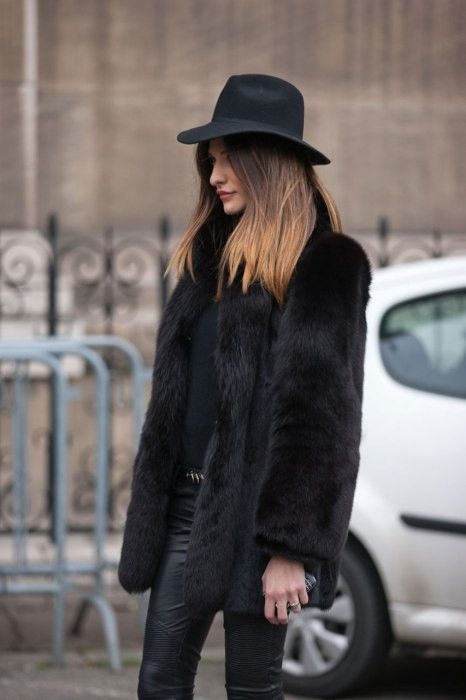 La fausse fourrure
La demoiselle sur la photo porte un très joli manteau noir en fausse fourrure. La matière change un peu de ce qu'on voit partout et apporte un côté très chic à la tenue. Je dis que j'aime pas les looks en total noir mais ici j'aime car elle a parfaitement mixer les matières. Manteau fausse fourrure + pantalon en cuir = 2 matières différentes donc on arrive bien à distinguer les différentes pièces de noires.
Photo : The Fashion spot
Miser sur les accessoires
Pour égayer un manteau noir, il faut miser sur des accessoires colorés ! Créer un camaïeu avec vos bonnets, gants, écharpes. Comme par exemple : Bonnet crème en laine tricoter, une écharpe beige en laine et des gants de couleur camel en daim! Vous pouvez aussi également miser sur une écharpe à motif qui contient un peu de noir, histoire de faire une jolie transition. Les écharpes en fausse fourrure apportent aussi un joli jeu de matières et rendent la tenue tout de suite plus sophistiquée. N'hésitez pas à mélanger les matières. La laine va super bien avec le cuir et la fausse fourrure par exemple.
Le choix d'un sac de couleur fera aussi toute la différence. Le camel est une couleur sûre qui ira avec tous vos looks. Vous pouvez aussi choisir un sac bordeaux, vert foret ou bleu marine. Des teintes hivernales qui n'auront aucun mal à se fondre avec le reste de vos vêtements. Faites aussi attention à vos bijoux! Une jolie broche, une paires de boucles d'oreilles peu booster une tenue.
Le chapeau + manchette bague & collier doré + pochette colorée
Leandra Medine a parfaitement accessoirisé son manteau avec une manchette et un collier imposants dorés. Les bijoux on y pense pas assez mais ils donnent vraiment de la lumière au look. Le métal s'accorde à merveille avec des matières cosys tels que la laine. Elle ajoute un chapeau vert kaki et une pochette pleine de couleurs pour finaliser le look.
Photo : Leandra Medine
L'écharpe blanche et noire + rouge à lèvres
L'écharpe noire et blanche permet de faire une jolie transition avec le manteau (ici une jacket mais vous avez compris le truc :) ). Sans oublier, la touche de rouge à lèvres qui apporte de la couleur et du pep's!
Photo : Alex Closet
La fausse fourrure en accesoire
L'écharpe en fausse fourrure avec la petite pointe bleu qui apporte la touche de couleurs nécessaire au look. J'aime beaucoup le mélange de matières et la fausse fourrure donne toujours un petit côté classe et sophistiqué que j'aime beaucoup. Les touches de dorées sur le sac apportent également un peu de lumière à la tenue.
Photo : Fashion Toast
J'aime beaucoup le look de cette femme. Le pantalon retroussé avec les sandales métalliques et l'écharpe en fausse fourrure en dégradé de gris juste sublime ! J'espère vous avoir convaincu avec la fausse fourrure :) Et en plus, ça tient bien chaud.
Photo : Marie Claire
Jouer avec les superpositions
C'est une astuce que j'applique souvent vu que je suis une grande frileuse et que je déteste avoir froid. Superposer ses vêtement est un bon moyen d'avoir bien chaud en hiver et c'est très pratique car vous pouvez toujours enlever des couches en intérieur! Vous pouvez par exemple porter un blazer, une veste en jeans, un cardigan ou un blouson en cuir sous votre manteau que vous porterez ouvert s'il n'y a pas le tempête évidemment :). Les superpositions en plus d'apporter du style, tiennent bien chaud et vous pouvez vous créer plein de looks différents avec cette méthode. Evidemment, il faudra prévoir plutôt un manteau plus large de coupe boyfriend ou prendre la taille au dessus pour pouvoir mettre des couches sous le manteau.
Ici, superposition de deux manteaux fins : un manteau noir par dessus un manteau camel de mi-saison. Je suis pas fan de l'écharpe noire mais j'aime bien les boots camel qui rappel le manteau et la pochette léopard qui accessoirise bien la tenue.
Photo : Gal meets glam
Ici, un manteau noir par dessus une veste en jeans clair. J'aurai trouvé plus joli que la veste en jeans arrive un peu plus bas au même niveau que la chemise mais ça ne choc pas. La veste en jeans apporte une petite touche sympa et décontracté que j'aime beaucoup. Un pièce peut totalement changer, si la veste en jeans n'était pas là, on aurait eu un look noir et blanc banal.  J'aime également la petite touche de vernis rouge très subtile mais qui rend le look plus travaillé.
Photo : The Fashion spot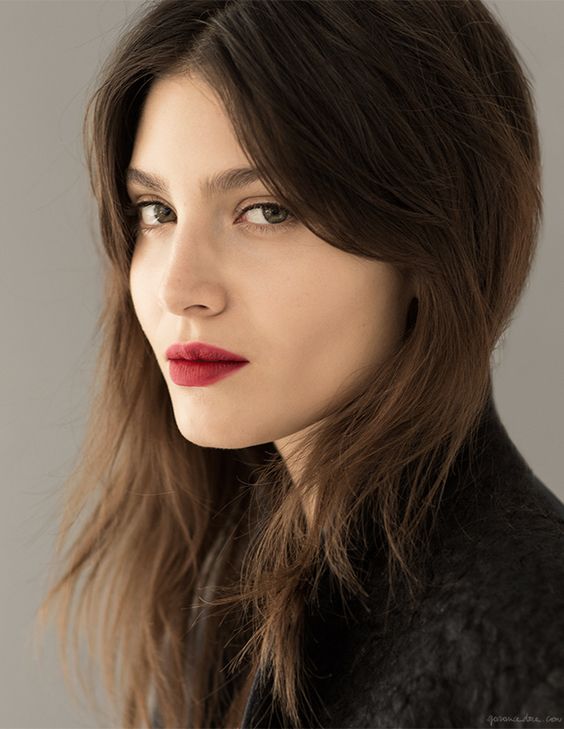 Le makeup
Vous savez que pour moi la beauté est indissociable du style. Donc pour illuminer votre manteau noir pensez à mettre un rouge à lèvres et faire une belle mise en beauté. Le noir durcit les traits du visage et fera ressortir vos cernes et imperfection, donc il est important de venir apporter de la lumière et bien travailler son teint. Un rouge à lèvres rouge par exemple apportera vraiment du pep's à un look noir hivernal en ajoutant une petite touche très glamour.
Pour les plus timides, il y a évidemment des couleurs moins fortes, comme un rose pâle, un corail, un framboise effet lèvres mordues ou même un nude plus soutenu.
---
J'espère que cet article vous aura aider. Dites-moi si vous aimez ce style d'articles car je pense de plus en plus à publier des "tips" mode, beauté et autres. Si vous aimeriez des articles sur un autre vêtement n'hésitez pas à me le dire en commentaires  :)